An unusual funeral procession to Spolana in Neratovice started at 11 am today. Logos of the biggest producers of plastic pollution were placed on the coffin, and names of the worst diseases proven to be influenced by toxic substances contained in plastics were stated on the funeral wreaths.
With today's happening, Arnika drew attention to the serious threat represented by plastic pollution not only to the environment, but also to human health. In fact, toxic substances released from plastics not only during their use, but also in the course of their manufacturing and disposal, have been linked to diseases, such as infertility, cancer, diabetes, obesity, and others.
A symbolic place was chosen for the happening, near to Spolana Neratovice, a chemical plant that was in the first place of the list of the biggest Czech polluters with carcinogenic substances (vinyl chloride and trichloroethylene) every year. It releases them as a consequence of manufacturing raw materials for plastics. In the long term, PVC (polyvinyl chloride) has been evaluated as the most hazardous of them for the health and the environment. Other chemical plants ranking among the biggest polluters in the Czech Republic manufacture plastics and additives into them, mostly toxic, too: Chemopetrol Litvínov, DEZA Valašské Meziříčí and Spolchemie Ústí nad Labem.
"Today's happening is also a start of collecting signatures for the Plastic Free Future appeal. We want to stop overproduction of plastics, as well as pollution caused by plastics during their manufacturing, use, and mostly disposal. We demand that people have the choice to live without plastics. As signatories to the Plastic Free Future appeal, we ask that international corporations and governments of countries all over the world take the responsibility and adopt efficient restrictions on production of toxic and non-recyclable plastics. Only efficient restrictions on excessive manufacturing of plastics, for example, in packaging materials, and ban of manufacturing of plastics with toxic substances, will result in stopping excessive overproduction of plastics, that especially the countries of the Global South are not able, and will not be able, to cope with. In the case that the world does not try to restrict plastics, all of us will be up to our ears in plastic waste soon," said Karolína Brabcová, expert of the Arnika Association on toxic substances in consumer goods.
The Plastic Free Future appeal may be found at: https://arnika.org/budoucnost-bez-plastu
By manufacturing plastics, oil companies try to compensate for losses from decline of markets of fuels for combustion engines and oil as fuel for thermal power stations. Because of that, they press on increasing consumption of plastics, a vast majority of which is manufactured from petroleum products (see graph).
The consumers often have no choice and they have to choose goods packaged in unnecessary plastics, and plastic substitutes for products that were formerly manufactured from more sustainable materials. Today, it is much more difficult to find clothing, furniture, and household and garden tools, made from natural materials on the market. And if they are available on the market, their price is so high that a portion of the society may afford the high-quality goods only.
During disposal of plastics, toxic substances added into them are released into the environment (for example, plasticisers, such as phthalates, and brominated flame retardants), or their incineration produces an even more toxic cocktail (for details, please see the new study "Waste Incinerators and the Environment" - https://arnika.org/spalovny-a-zivotni-prostredi).
Between November 13 and 19, the third preparatory session of the new global plastics treaty will be held in Nairobi, Kenya. "In our opinion, the treaty should not only solve what to do with piles of plastic waste, but it should stop increase of its amount, and also prevent pollution with toxic substances," summarised Jindřich Petrlík, an expert on toxic substances in wastes and in the environment. He added: "During the session, Arnika will advocate for increased considering of the issue of plastics also from this perspective."
Graph: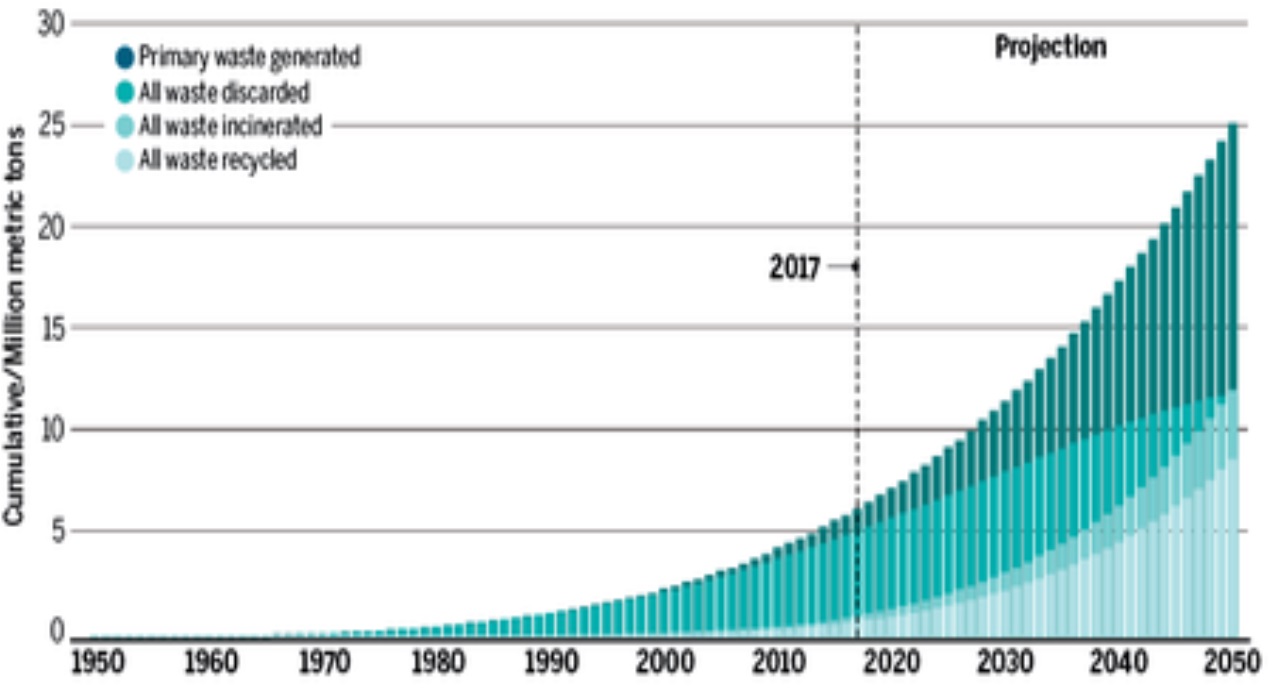 Further growth of plastic production will result in exponential growth of plastic waste.
Source: (Geyer, Jambeck et al. 2017) - Geyer, R., Jambeck, J. R., & Law, K. L. (2017). Production, use, and fate of all plastics ever made. Science Advances, 3(7), e1700782.
Information on PVC and Spolana: Spolana Neratovice is the only PVC manufacturer in the Czech Republic. A number of substances have to be added into it to modify its properties in order to make it softer or harder, according to the intended use. Moreover, flame retardants are added into it, too. Arnika has campaigned for a ban on the use of PVC in food packaging, toys and medical devices in the "Let's Not Play with PVC" campaign. In 2000, an attempt was made at the European Union level to restrict PVC. All these efforts were swept off the table and stopped by the chemical industry. However, food is mostly no longer packaged in PVC in the Czech Republic.
More information on PVC: https://arnika.org/toxicke-latky/nase-temata/toxicke-latky/polyvinylchlorid-pvc
More information on Spolana: https://arnika.org/toxicke-latky/nase-temata/prumyslove-znecisteni/kauzy-v-cr/spolana-neratovice
For more information, please contact the Arnika's press agent, Luboš Pavlovič (This email address is being protected from spambots. You need JavaScript enabled to view it., +420 606 727 942).