Air pollution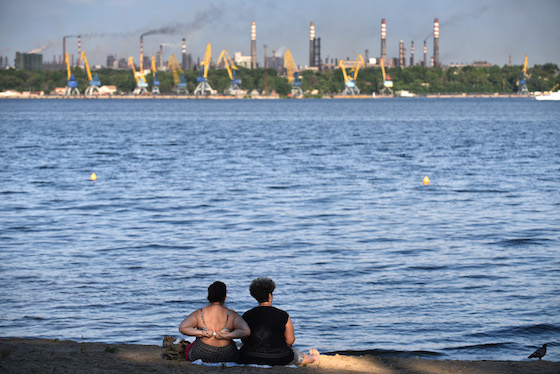 According to the World Health Organization (WHO), air pollution can cause up to 7 million deaths a year worldwide, with 9 out of 10 people breathing air containing pollutants in concentrations exceeding WHO limits. Heavy industry and the burning of fossil fuels, including car operation, are significant sources of air pollution. Most countries in the world do not have an appropriate strategy for the transition to a green economy and investment in advanced technologies is insufficient. Pollution is largely related to population growth associated with the generally shared idea of constant economic growth and increasing material demands. At the same time, we are facing a shift in location of dirty industries from rich countries to emerging economies.
People in these countries do not have access to information on the actual level of pollution - the state monitoring system either does not exist or the authorities keep the data secret. Therefore, in cooperation with local non-governmental organizations, we create civic air monitoring networks and publish the data so that everyone can find out about the current level of air pollution with harmful substances and be able to protect their health. Access to information is the first step in promoting wider change - whether in legislation, law enforcement or in specific industrial enterprises.
In Ukraine, for example, air pollution causes almost 84,000 excessive deaths per year. Since 2019, we have been creating a civic air monitoring network here, which includes hundreds of stations located in all industrial centers. We have launched the Clean Air for Ukraine information portal, and we provide comprehensive support to civic initiatives in the industrial regions of Kryvbas and Donbas in local campaigns for better air.
In Belarus, we have identified "hot spots" of industrial pollution and developed AirMQ - civic air monitoring system. We have published a Green Map of Minsk, which guides the population to a more environmentally friendly life in the capital.
Same as in the Czech Republic, we regularly announce the rankings of the largest industrial polluters in Bosnia and Herzegovina. In Zenica, we support a local civic association in the campaign to modernize the obsolete ArcelorMittal smelters, which are one of the biggest polluters in the entire Western Balkans.
We contributed to the closure of polluting plants in Alaverdi, Armenia. In Kazakhstan we published a study on the pollution of the Temirtau and Balkhash hotspots. We addressed the issue of air pollution in a comprehensive way at the conference "Fighting Air Pollution in the Industrial Cities of Europe", at which more than 20 experts from seven countries spoke especially on the topic of successful campaigns for cleaner air and tools to reduce toxic emissions.